Friends of the Rail and Transport of Marseilles
Association governed by the law of 1901, created on January 15, 1981 (J.O. of April 25, 1981)
by the founder members Messrs:
Bernard METAI : Président
Ange GIROD : 1st Vice-Président
René THOMAS : 2nd Vice-Président
=======================================
2009 - 2010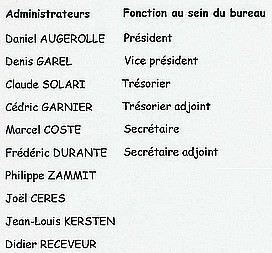 Person in charge for the Site : F. DURANTE
=======================================
- It is animated by the voluntary ones: Agents and reprocessed Control of the Transport of Marseilles (R.T.M.), others impassioned of transport and attaches at the town of Marseilles. All have with c?ur, according to their tastes and their competences, to take part in its development and its dynamism. ITS GOALS:
- To preserve, maintain in operating state and to develop the material travelling put at the reform by the R.T.M. or offered by other organizations. Inter alia the A.R.T.M. has the oldest trolleybus of France, a bus "BERLIET", two motor coaches of tram (the 1258 and 1265), a car scale "RENAULT", a road tractor "LATIL", a simulator of control of bus, etc unfortunately, the road material was vandalisé in 1998 by individuals who were introduced by effraction into the room by boring a wall. Since the setting on road of line 68 and the closing of the network of trolleybus, the collection grew rich by a motor coach PCC (TA 11) and one trolleybus ELR 100 (213).
- To create and animate with the assistance of the Municipality, in a future which we would like near, a museum living worthy of the second town of France, who in addition to his role of safeguarding, could have a teaching vocation, amongst other things, for the younger generations.
- To make known the history and the inheritance of Marseilles transport by organizing conferences and exposures WHO DOES IT ACCOMODATE? Whatever its age, whatever its tastes, each one can find in the A.R.T.M. a sphere of activity allowing him to open out, within a dynamic and cordial team.
Contributions 2007: Nobody only 25 Euro, Couple 35 Euro For all information, it is possible to make contact with the following address:
P.0. box : 20025 - 13351 MARSEILLE Cédex 05 (Supprimée)
Our telephone : +334.91.47.83.62.
les Amis du Rail et des Transports de Marseille
Depot des Trams de Saint Pierre-bus
27, boulevard Jean Aicard 13005 MARSEILLE (FRANCE)
Or preferably at our address E-mail (Recommended): artm13@aliceadsl.fr

Thank you to write the heading in all letters to avoid confusion the A.R.T.M enters. and the R.T.M.